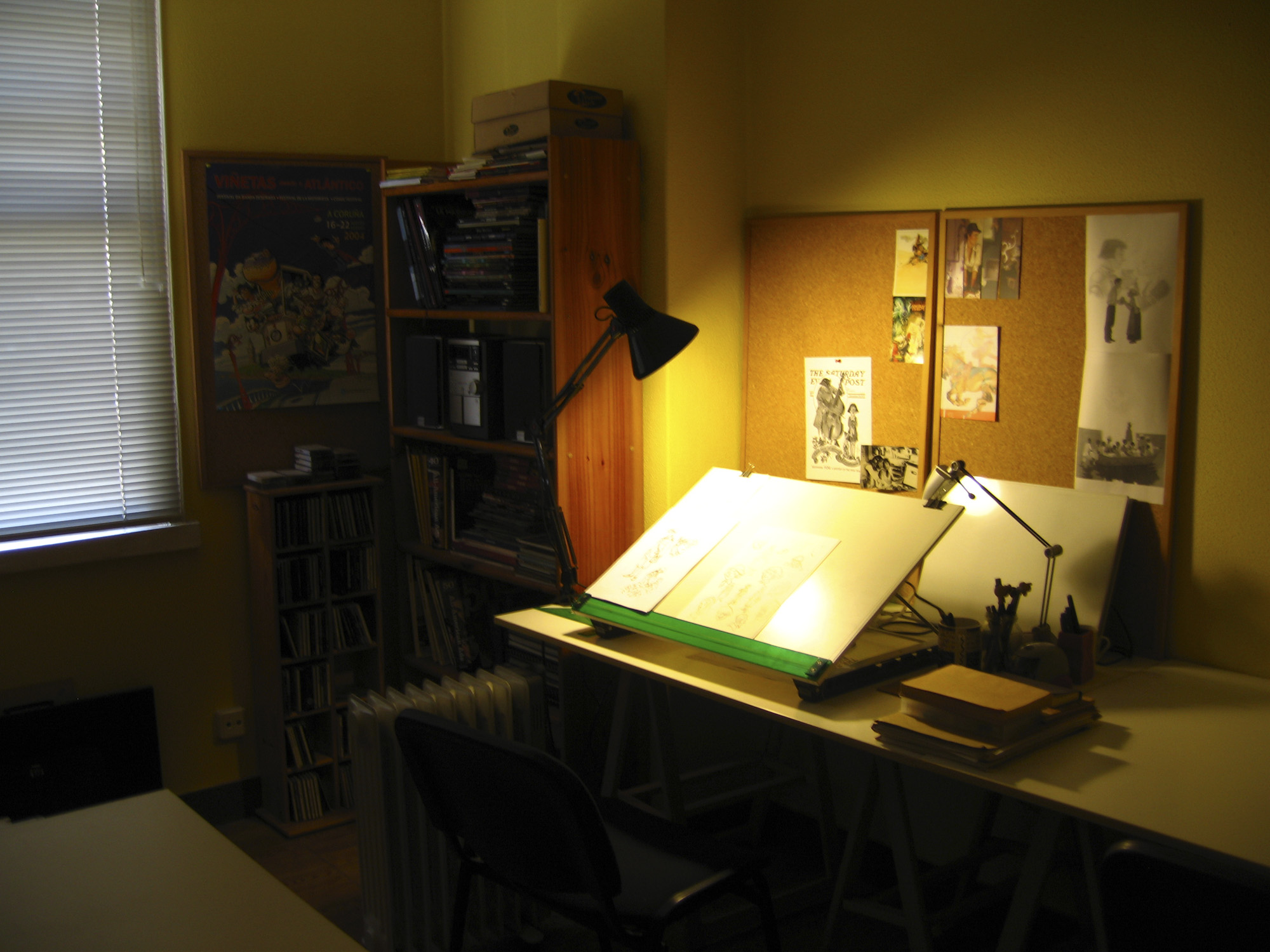 Hace 10 años me junté con 3 amigos ilustradores para compartir estudio. La idea inicial de trabajar fuera de casa, compartiendo gastos y recursos, se convirtió con el tiempo en mucho, mucho más.
Aunque cada uno llevaba su carrera por separado eran inevitables y bienvenidas las influencias de los demás. Aprendimos de las experiencias y comentarios de los otros y ocasionalmente compartimos algún encargo. De uno de estos trabajos surgió el nombre del estudio y cuando decidí hacer mi primer blog lo convertí en el blog de Baobab. Con el tiempo se fueron uniendo nuevos miembros y la sinergia de tantos factores hizo que Baobab estudio fuera algo con entidad propia, más allá de la suma de sus miembros y cada uno de nosotros hemos crecido como profesionales mucho más de lo que lo habríamos hecho por separado.
Cambio de aires
Tras estos 10 estupendos años de experiencias compartidas, el estudio cambia de local, y yo dejo mi puesto para trabajar desde casa, aunque continúo la relación con Baobab a través de su blog.
Si no he dado señales de vida por aquí no es por falta actividad sino, como suele ser habitual, por todo lo contrario. En los últimos meses, además de la mudanza, he estado trabajando en varios proyectos de los que iré dando noticias muy pronto.
A new stage
10 years ago I joined three friends illustrators to share studio. The initial idea of working outside home, sharing expenses and resources, eventually became much, much more.
Although each one of us had separate careers, influences on each other were inevitable and welcome. We've learned from the experiences and opinions of the others, and occasionally shared some commission. From one of this assignments came the name of the studio and when I decided to make my first blog it became Baobab's blog. Over time new members joined us and synergy of so many factors made out of Baobab estudio something with its own entity, beyond the sum of its members, and each one of us have grown much more professionally than we'd have done on our own.
Change of scenery
After these 10 great years of shared experiences, the studio moves to a new office, and I've left my place to work from home, but I continue the relationship with Baobab through its blog.
If I haven't posted here for a long time is not for the lack activity but, as usual, for the opposite. Over the past months, in addition to the move I've been working on several projects and I'll tell you news very soon.